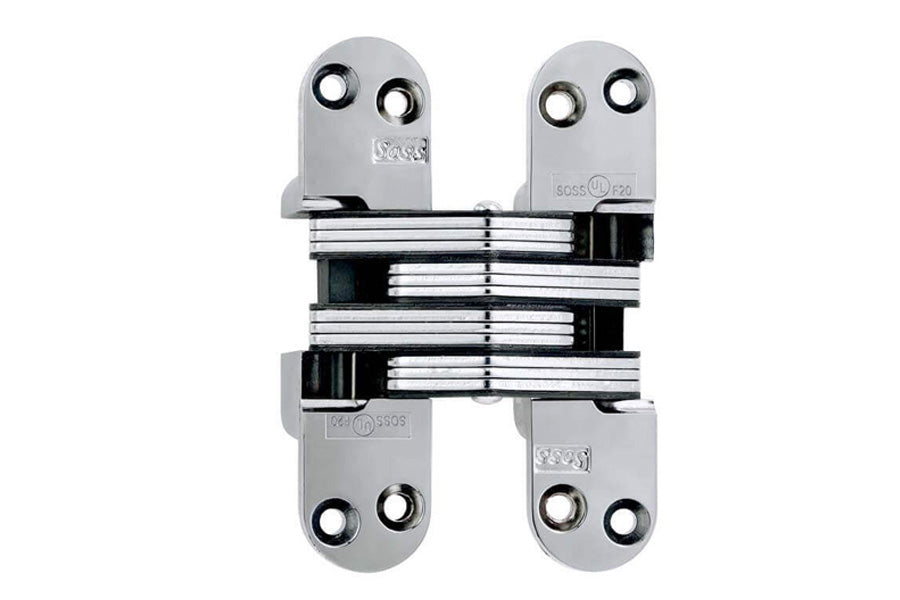 SOSS 218 Invisible Concealed Hinge [x1 Per Box, Door Thickness 1-3/4" to 2" thick]
Original price
$63.00
-
Original price
$63.00
 
SOSS® Invisible Hinge model #218 is for use in wood or metal applications that are 1-3/4″ to 2″ thick. The model #218 is made of zinc and steel materials. Nylon links add strength and durability. SOSS® Invisible Hinges open a full 180° and are a single action hinge.  Now with a 20 Minute UL Fire rating!
Features
Security - When closed, the SOSS Invisible Hinge cannot be seen or tampered with. When opened, the riveted hinge pin is non-removable.

Safety - The moving pivot point remains inside the hinge during travel until fully opened, eliminating an external pinch point on the back side of the door

Strength - The installed hinge is firmly anchored in a deep, full mortise, which assists the screws in supporting the door, assuring a stronger, more rigid installation.
Technical Specification
Min. Matl. Thickness

:

1-3/4″ (44.45mm)

Wood Screw Sizes

:

#10×1-1/2″ (4.8x38mm)

Soft Wood Pilot Hole

:

No. 43

Hard Wood Pilot Hole

:
No.31


Machine Screw Sizes

:

#10-24×1″

Hinge Weight

:
1.86 lb.

References